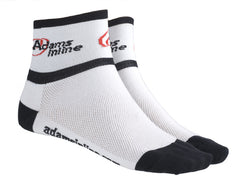 Adams Defeet Race Socks
 Size SM (fits men 4-7), (fits Women 6-8)
13)
Size XL (fits men 12+), (fits Women 13+) 


Defeet Socks: Defeet makes very durable socks. The Air-E-ator by Defeet is recognized throughout the world for delivering performance under the most sever conditions. Defeet has made major technical advancement engineering the Air-E-ator including En-Duro-Skin construction, stayfast cuff and the air-e-ator vapor zone. For Cycling , running, inline skating and everywhere in between. The socks is designed to wick away moisture from your skin

Race Tip: The Defeet socks are very good for inline since the outside of the sock is like sandpaper. The inside is soft, but the outside grips your boot very well, This will prevent a lot of movement during a skate.