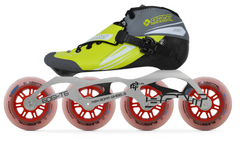 Bont Jet flora skates
The Jet is the world's most popular speed skate and for good reason. It is extremely good value for money, it's supportive, comfortable and made by hand using Bont's unique one piece manufacturing technique. The boot has anti stretch tapes that ensure the boot does not stretch over time. The carbon and fiberglass is hand laid around the memory foam ensuring a very light weight and strong construction. This boot is fully heat moldable and has been designed on a new tighter fitting last. This model uses Bont's patented 3 point mounting for the stiffest base on the market. The jet is more moldable and stiffer than the Cheetah which is our new entry level model.
new colors ; black, blue, red, yellow 
NOTE: A good conversion from you shoe size is buy Bont boots  one whole us shoe size smaller than your standard shoe.
Carbon composite base
Epoxy resin
Microfiber liner
Microfiber adjustable buckle
Hand made 1 piece construction
SMT(Super Mold Technology)
EVA innersole
Heat moldable tongue
TPU toe protector
Waxed laces
Lace cover
Bont 6061 4x110 frame
Bont 100 or 110mm outdoor wheels
ABEC #7 bont bearings.
Micro Adjustable Buckle
The micro adjustable buckle adds an additional level of tightness. You can bend down and tighten your boot during the race if need be.
Ventilation
Cycling scientists have proven that cooler feet can boost performance. So the new Vaypor has more ventilation than any boot that we have ever made. The tongue is ventilated to let hot air out of the top of the boot. At the front, the protective bumper has air holes to let air in so the faster you skate, the more air that rushes in and cools your feet. There are also ventilation holes on top of your toes that let cool air in and hot air out.
Anti Stretch
Between the outer skin and the liner we add a material that is proprietary to Bont to stop the boot from stretching over time. This material has similar strength characteristics to Kevlar. This material is stitched to the outer skin and bonded to the liner so it can never move or be removed, it becomes part of the boots structure. This layer is the reason that Bont boots do not stretch out as much as other brands of boots over time.
Carbon Fiber
We source our carbon exclusively from the world's #1 carbon manufacturer, Toray of Japan. The base of the Jet is made by hand by sandwiching cross weave carbon and fiberglass which is embedded with epoxy thermo setting resin. The fibers are hand laid in the matrix according to the strain they will have to bear.
Last Design
A last is a plastic replica of a foot that the boot is built around. Last makers do not make skate lasts, they only make shoe lasts so perfecting a speed skating last is not an easy prospect. At Bont, we have been perfecting our lasts since 1975 and the process is ongoing. We feel that we put more effort into our last than any other skating brand and it is the reason that Bont boots fit more skaters than any other brand on the market.
Padding
The Jet utilises closed cell memory foam that will not retain water assisting in maintaining a lighter shoe during wet conditions as well as ensuring sweat which can begin to break down the durability of the shoe is not absorbed.
TPU Toe Protector
The toe protector not only protects the front of your boot from impact but it also has ventilation which keeps your feet cool.
Heat Moulding
Bont inline boot is the most heat moldable shoes available. Bont's proprietary resin has been developed and perfected over 36 years to be an extremely stiff resin that becomes pliable at relatively low temperatures. Unlike other shoes which are moldable only in select locations, all Bont inline boots are able to be molded over the entire chasis providing cyclist not only with the most anatomically designed cycling shoe on the market today, but also with the ability to fine tune the fit of the entire shoe to give a customised fit.
Size chart (Us, Euro, foot size in millimeters)
NOTE: A good conversion from your shoe size is to buy Bont boots  one whole us shoe size smaller than your standard shoe.
4 36 232
4.5 36.5 235
5 37 237
5.5 37.5 242
6 38 247
6.5 38.5 250
7 39 257
7.5 40 264
8 41 271
9 42 280
9.5 43 287
10 44 292
10.5 45 296
11 46 300
11.5 47 304
12 48 308
12.5 49 313
13 50 316
13.5 51 320