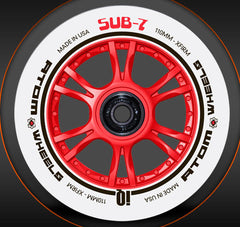 Atom Sub7 IQ 100mm xfirm
Sub-7 iQ - The evolution of indoor racing continues. Sub-7 features an improved Q ring to enhance speed, grip, rebound and overall performance.

Atom - The most trusted brand of wheels in speed skating
 
WHAT IS IQ™ TECHNOLOGY?

Imagine a skate wheel that anticipates your race day needs, adjusting to your individual skating style, working with you instead of against you. At Atom Wheels, imagination has become reality with the introduction of 
iQ™ TECHNOLOGY!
Designed to mimic the footprint and handling characteristics similar to that of a car with positraction, skate wheels utilizing Atom's patented iQ™ Technology adjust to the track surface as you apply pressure, knowing where and when you need grip.

EXTREMELY FAST W/ GOOD GRIP! 

Denser urethane increases the wheels ability to conform (grip) ,while also increasing durability. One iQ™ is also more resistant to temperature, which contributes to slipping and premature wheel wear.