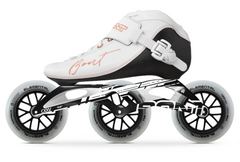 Bont BNT skates
*Please note that this boot is not kept in stock and we will order it to be made as soon as you order it. We will ship this skate in 8-9 weeks after you place your order. 
The BNT is Bont's simple and classical inline speed skate boot. The lines are clean and uncomplicated. 

The base of the boot uses 100% carbon fiber with Bont's famous epoxy resin that is heat moldable. The padding is neoprene which is a closed-cell foam that does not absorb water. This speed skating boot is ultra-lightweight as it has no bumpers or thermoplastic or zippers. The carbon base of the boot has a matte finish that is lighter than the usual gloss finish found on most inline speed skates. 
The outer skin is made from Durolite which is usually reserved for the Bont Vaypor and the liner is Suede-L which feels great with or without socks on. 
The mounting blocks are made of aluminum with a hardened steel nut. Did you know that Bont has never received a single skate returned due to mounting block issues? Our system is foolproof. The mounting screws have Loctite to stop them from coming undone during a race. 
The boots tongue has ventilation to keep your feet cool and also velcro to hold it in place. The tongue padding is comfortable and stops lace bite. The laces are waxed and have very little stretch. 
The boot is built on a last that has a tighter heel than normal to hold your foot as tight as possible and give a feel as close to custom as possible. This boot is designed for professional racers so the BNT inline boot is very responsive and not suitable for skaters who want a very padded boot. 
 Features: 
Base: 100% carbon with matte finish
Outer skin: Durolite
Liner: Suede-L
Pitch: 12mm
Air vents: Tongue
Innersole: EVA thermo-moldable
Heat moldable: Fully heat moldable base utilizing epoxy thermoset resin
Padding: Neoprine 2mm
The Bont CXXV Red or Black inline speed skating frame's perfect flex control is your secret weapon. A frame that is too stiff skips across the road at the end of the push. A frame that is too soft will feel mushy and slow. The CXXV has the perfect amount of flex for maximum control.
Mounting:

 

2 Point 195mm
Length: 12.8"
Deck height (center axle to top of frame):

 

Front 59.5mm Rear 70.5mm
Weight:

 

219g
Material:

 

7050
Made in:

 

Taiwan
Bont Element 125mm wheels 
Bont Jesa ABEC 7 bearings, or Adams Swiss upon  request for no extra charge 
Heat Moulding
Bont inline boot is the most heat moldable shoes available. Bont's proprietary resin has been developed and perfected over 36 years to be an extremely stiff resin that becomes pliable at relatively low temperatures. Unlike other shoes which are moldable only in select locations, all Bont inline boots are able to be molded over the entire chasis providing cyclist not only with the most anatomically designed cycling shoe on the market today, but also with the ability to fine tune the fit of the entire shoe to give a customised fit.
Size chart (Us, Euro, foot size in millimeters)
NOTE: A good conversion from your shoe size is to buy Bont boots  one whole us shoe size smaller than your standard shoe.
4 36 232
4.5 36.5 235
5 37 237
5.5 37.5 242
6 38 247
6.5 38.5 250
7 39 257
7.5 40 264
8 41 271
9 42 280
9.5 43 287
10 44 292
10.5 45 296
11 46 300
11.5 47 304
12 48 308
12.5 49 313
13 50 316
13.5 51 320