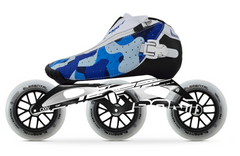 Bont Vaypor inline skates
The best inline speed skating boot money can buy.

They are designed by the best and tested by the best. That is to say; the Vaypor inline boot is created by the highly renowned skate designer, Inze Bont, tested by the world's best skaters and given the tick of approval. The Vaypor Inline Boot simply is the best inline speed skating boot in the market.

The boot is heat moldable, uses memory foam padding, is Vegan, and has a 100% carbon base. Furthermore, the standard version of this skate boot integrates both the buckle lace cover and the YKK zipper lace cover.

The Vaypor Inline Boot is made to order and not kept in stock. As a result, the typical production time is 3-6 weeks. This boot has no toe-box which means that the laces go all the way down to the front of the boot. 


Features
Base:

 

100% carbon with unidirectional carbon and matte finish
Outer skin:

 

Durolite
Liner:

 

Durolite
Pitch:

 

12mm
Air vents:

 

Toe and tongue
Innersole:

 

EVA thermo-moldable
Heat moldable:

 

Fully heat moldable base utilizing epoxy thermoset resin
Padding:

 

Medium-density memory foam
Protection:

 

Front TPU bumper
Vegan:

 

Yes
The Bont CXXV Red or Black inline speed skating frame's perfect flex control is your secret weapon. A frame that is too stiff skips across the road at the end of the push. A frame that is too soft will feel mushy and slow. The CXXV has the perfect amount of flex for maximum control.
Mounting:

 

2 Point 195mm
Length: 12.8"
Deck height (center axle to top of frame):

 

Front 59.5mm Rear 70.5mm
Weight:

 

219g
Material:

 

7050
Made in:

 

Taiwan
Size chart (Us, Euro, foot size in millimeters)
NOTE: A good conversion from your shoe size is to buy Bont boots  one whole us shoe size smaller than your standard shoe.
4 36 232
4.5 36.5 235
5 37 237
5.5 37.5 242
6 38 247
6.5 38.5 250
7 39 257
7.5 40 264
8 41 271
9 42 280
9.5 43 287
10 44 292
10.5 45 296
11 46 300
11.5 47 304
12 48 308
12.5 49 313
13 50 316
13.5 51 320