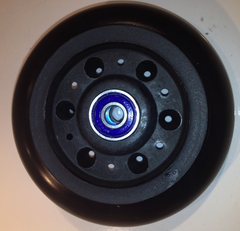 Elliptical replacement wheels
 Customer review on 5/4/2020:
"Hey Adam, just FYI, not only did these wheels arrive bright and early this morning as you indicated, they fit like a dream, run silky smooth and seem much sturdier than the originals.  For once, something works exactly as advertised!  I couldn't be more delighted.  And my original M10 axle bolt works perfectly.  Thanks so much."

Top 4 inch replacement wheels your will ever find. You will NEVER break this wheel. 
NOTE the bearing hole size: Two Bearings are used in these replacement wheels, one has 3/8 inch  inner diameter hole for axle and the other  5/16 inch hole. Please state which bearing hole you have. 3/8 or 5/16 in comments section of online order. Call if confused. I have both bearings in stock. 
Best to order 2 wheel setups. $49 per wheel setup. Not original equipment, but these replacements work very good for only $49.
We have found a great wheel with a SOLID hard plastic core that holds up. The bearings are also very sturdy as well, hold up well under weight. This is not a normal skate wheel, this has a solid hub that has been drilled out,. That means this wheel will hold up to Elliptical machines very well. 

SAVE $55 per wheel. The cost of buying them from manufacture is $105 per wheels . These come with bearings and spacers, all set up for your. just put on. 

NOTE: This replaces the wheel that move up and down the ramps, the one on the foot peddles. Not the wheel that touches the floor that wheels the elliptical around. If the wheel you need replaced is about 100mm in diameter (about 3.9 inches), this will work fine. 

NOTE: These are not sold as original equipment wheels. They are wheels that have worked well for these Nordictrack Ellipticals. Full refund if they do not fit. Many sold so far. 
NOTE: For $49 you get one wheel, 2 bearings, and spacer for the whole unit. All put together for you. most customers buy 2 wheels, thus $98 
This is the lowest price for replacements wheels of this type. Many sold.
The list below is just a sub list. This wheel actually works on many other exercise machines . Just make sure the wheel needing replacing is about 4 inch in diameter and about 3/4 inch thick.
These brands also use this 4 inch wheel (body fit, weslo, Reebok, body fit, free motion, gold's gym, healthrider, icon, image, pro form, weider, epic, sears).
Call me if you have questions, Adam 612-817-4930. full refund if they do not fit. 
Here are a few comments from past ebay customers.
3/6/14 "Where can I give you and your business a rating? You've got about the fastest response time of anyone I've every ordered from.  Thanks. Steve K"
"Nordictrak elliptical replacement wheels much better than orig"
"works perfectly thank you"
"SAved me money by buying this product vs. Nordic wheels"
"Worked great for my Nordictrack CXT980 elliptical! Thanks! Super quick shipping"
"Great Seller! Great Product! Fast Shipping"
"wheel works great for nordictrack cx990, great price"
"Saved alot of $$$. Wheels fit my Nordictrack great........Thanx"
"Great product and extremely rapid shipment, highly recommended seller!!!!!!"
"Wheels fit perfect - these are better than originals. Highly recommended"
"what a great seller!! perfect item and super speedy shipping!!! A+++++"
XX