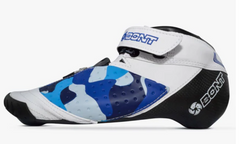 Full Custom Bont Vaypors
 Hi, This is Adam of Adamsinline.com. I have casted 600-900 skates in the past 16 years for custom boots. I have learned a lot about fitting feet and would like to share my expert knowledge for fitting speed skates. if you have foot issue, or would like to increase your performance, Full customs skates are a must. Bont does a great job at this, Bont custom Vaypors have helped  skaters reach  the podium for years.  Also, the custom from Bont  are well known for comfort from recreation skater to full on speed skater. About 70% of the top skaters in my area are on custom Bonts.  Let us bring you to the next level.  Once you go custom, you will never go back to stock. 
The best inline speed skating boot money can buy.

They are designed by the best and tested by the best. That is to say; the Vaypor inline boot is created by the highly renowned skate designer, Inze Bont, tested by the world's best skaters and given the tick of approval. The Vaypor Inline Boot simply is the best inline speed skating boot in the market.

The boot is heat moldable, uses memory foam padding, is Vegan, and has a 100% carbon base. Furthermore, the standard version of this skate boot integrates both the buckle lace cover and the YKK zipper lace cover.

The Vaypor Inline Boot is made to order and not kept in stock. As a result, the typical production time is 3-6 weeks. This boot has no toe-box which means that the laces go all the way down to the front of the boot. 


Features
Base:

 

100% carbon with unidirectional carbon and matte finish
Outer skin:

 

Durolite
Liner:

 

Durolite
Pitch:

 

12mm
Air vents:

 

Toe and tongue
Innersole:

 

EVA thermo-moldable
Heat moldable:

 

Fully heat moldable base utilizing epoxy thermoset resin
Padding:

 

Medium-density memory foam
Protection:

 

Front TPU bumper


Most any color combo is possible, 1000's of combo's. 
NOTE: if you do not life near Minneapolis mn, i can send a casting kit. just watch video below. these come out very good.