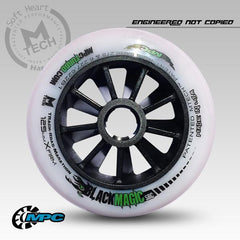 MPC Black Magic 125mm xfirm
When your goal is to maintain top speed longer, with less effort, MPC's Big Black Magic 125mm wheels are just the trick you need. You'll be saving energy for the field sprint while going faster than your ever have on the long straights, and attacking in the curves and corners with confidence on a wheel designed to push past the limiting laws of physics and perform with other-worldly precision, every time. 15mm taller than 110s for a longer, more efficient roll, and a full 24mm wide for better cornering, this wheel will conjure your inner speed demon and set you free from the pack.
Invoking the spirits of innovation, MPC has spun an incantation of support to enable you to activate super-natural speed. Casting their spell from the inside out, they've reengineered their legendary turbine hub to ensure every spoke and stress point is spoken for and fortified. You'll be nimble with the flex you need in the corners, and fully supported with the rigidity required for taking straights at lightning-bolt speed. There's a strange alchemy in these wheels that will turn your medal dreams to gold!
Less vibration, longer roll, more responsive and longer lasting, MPC Big Black Magic 125s are the large format wheel the sport has been waiting for. The last vestiges of hope your rivals have will disappear before you even hit the starting line, once they see you rolling forward with these on your feet.
Choose this wheel for:
Straight-line speed – all-road/track surface efficiency - energy-saving rebound - reliable grip - M-tech® optimization.
 weight:
7.1 oz, 202 grams
Adams Race Tip: This wheel will have more  rebound than the matter wheels, MPC urethane has always been very good. This is great fast wheel, and very sticky too, no slip out on these.