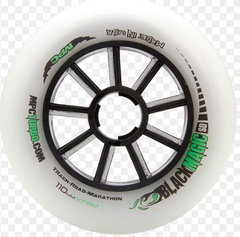 MPC Black Magic SD 110mm XXfirm
MPC's Black Magic SD wheels will bring your skates to the next level – whether you are cruising around town or preparing for a big race.
Inspired by the fastest speed skating wheel in the world, Black Magic SD delivers an unparalleled line of single urethane wheels unlike anything in the market.
Designed for high speed and superior rebound, Black Magic SD is made with the same premium formulation and V shape geometry that has made MPC's Black Magic wheel line a favorite to champions around the world.
Hub: Black Turbo
Urethane Color: Natural Urethane
Uses: Track, Road, Marathon
Black Magic SD comes in five sizes and two hardnesses: