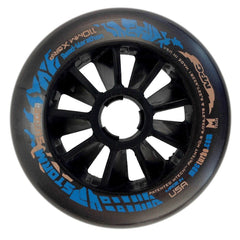 mpc storm surge turbo 110mm
Let it Rain ,Rain, Rain 
When it's raining, you either get Storm Surge, or you don't race. The Storm Surge has no equal.  If your opposition is on other wheels, they simply cannot do what you can on Storm Surge.
The Storm Surge wheel offers more grip in wet conditions than any other wheel, ever.  So much so, that skaters using Storm Surge in wet conditions have likened it to skating on dry road.  Today, if you don't have a set of Storm Surge in your bag, and it rains, you're in big trouble.
Wish you could have dry-road performance in wet conditions?
Want to be able to accelerate, effectively, on wet pavement?
Want to save your legs and back from the punishment of slipping around in a wet race?
Turbo means better hub. 
MPC produces, world renown, premium inline skate products. MPC's patented Mtech (multi-layer technology) wheels use a soft (super ball like) highly resilient inner layer that acts as a pneumatic tire. Mtech provides the largest footprint (ultimate grip), highest rebound (fastest) and firmest outer tread (best wear) available. MPC Speed wheels (Street Fight and Black Track) are found on the top of podiums at all major international championships and world championships.

Storm Surge: Finally a rain wheels, these stick like Glue. Same compound as the Street fight but softer. They realy stick. They are soft, thus use mpc Steet fight on front and back position and storm surge in middle if you weigh over 170lb. 

Dual durometer means these wheels are hard on outside and soft in middle. This profiles great rebound and roll. 

race tip: Many skaters needing extra grip outdoors during rain evets. Fatter profile than the VT or the blacktrack, these stick very well outdoors, and are great in the rain.