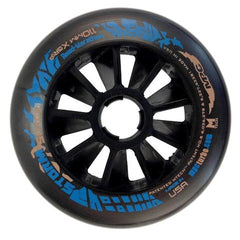 MPC storm surge 125mm xfirm
MPC Storm Surge inline wheels have no equal. There is no other rain wheel. The Storm Surge 125mm wheels offer more grip in rainy & wet conditions than any other wheel, ever, period. Storm Surge rain wheels are made using MPC's patented MTech dual urethane. Therefore it provides unsurpassed durability without compromising speed and grip in wet conditions.
The bottom line…if you don't have a set of MPC Storm Surge in your bag, and it rains on race day, you're finished.
Best Rain day wheel ever made.