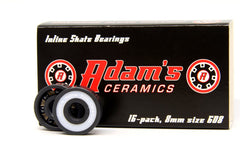 Adams Full Ceramics
 Adams Inline skater Kelin Dunfee winning 2022 Saint Paul 1/2 marathon on Adam's Full Ceramics. Kelin loves Adams ceramics in both dry and wet events. Fastest bearings in the world. Win on Adams. 
Weight: 8 grams per bearing, 30% lighter than steel bearing. 
Price is "PER Bearing", 
New ALL BLACK Silicon Nitride version just came in stock. Inner/outer race and balls all black ceramic the faster harder black ceramic is Silicon Nitride ., 
 Cost is per bearing 
Ceramic are well known as the fastest bearings due to very low rolling resistance. These new Full ceramic versions have ceramic balls as well as solid ceramic inner and outer race. This way you have ceramic on ceramic and not steel. This produces the perfect spin, no heat, and no vibration. Steel on steel produces vibration. When ceramic balls glide on ceramic races, you get a very smooth ride which translates into speed.
The 2019 Adams Pro Test Team won almost every local race, and took home 2 NROC  (North America Roller Cup) first place titles, and a tie with Joey Mania for first place while on Adams Full ceramic bearings.  
Eco bearings: These bearing are very easy to clean in your own home. No need for trips out to garage for use mineral sprints or paint thinner, you can clean these with hot soapy water, dry, then lube with Adams own lube which comes free with every set.  Outer dust shield keeps out dust and can be easily popped off for easy cleaning.
Race Or Train: These Full ceramics last long enough to be used to train and race one. No need for two sets of bearings. 
Rain Day no problem: No need to stop skating on rain days, these bearings will not rust.  Ceramic does not rust even if you leave submerged in water for a month. 
Lubrication: All orders receive Adams own brand of bearing lube , best for ceramic or steel bearing. Fully synthetic, this lube is far better than most any other lube.
NOTE: These bearings come individually wrapped and are NOT lubed from the factory. Must be lubed before use,  this is very easy. No need to take dust shields off to lube, just add one drop of lube to back side of bearing before use. Then your set to go. No need to lube till next cleaning.
Why $16/bearing: Full ceramic bearing are expensive due manufacture costs in creating ceramic inner and outer races for the bearings to ride in.  Please go you Ebay and search under "Full ceramic skate bearing" . You will see the bearing range from $29-$55 per bearing. Adams Inline has a great relationship with a very high end bearing factory. Thus, we are able to test for quality of the bearing and get a great price since there is no middle distributors. Price is lower, and quality higher. You win. 
Kelin Dunfee and Elias winning on Adams FULL ceramics. HUGE speed, NO friction.