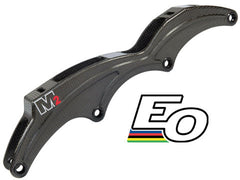 EO M2 Carbon 4x110 inline skate frames
EO frames are superior composite racing frames, engineered to perfection. 
NOTE: You get two frame per order. Qty of 1, means a pair of frames 
The process used by EO is unique in many ways. EO's  process is specialized and checked out in every detail to ensure maximum performance for every EO composite frame.
 One of the unique features is the 3D foam core, which substantially strengthens the frames without increasing weight.
Length : 13,2"

Weight : 140 g

Max Wheel : 110 mm

Mounting space : 195 mm

Front-Deck Height : 48mm
EO frames are designed for professionals; it will win over many enthusiasts among amateurs and competitors of all levels.