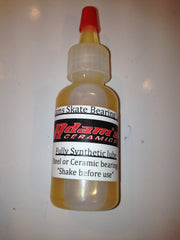 Adams Speed Oil
Adams Speed oil .5 OZ $6. one drop 
New
New lube by Adamsinline. Fully synthetic, this high speed oil is very thin and fast. Only one drop per bearing needed. combination of two oils allows for speed and lubrication. Many skaters are saying this is the best oil they have used. 
NOTE: Clean bearing before oil. Clean with Mineral sprints (paint thinner) . fill container with 2 cups, rinse, then set aside. Then dip and spin each bearing in a new solution. keep dip spinning each bearing with your figures till clean.
if you do not like to clean bearing, the bont cleaner machine will spin bearing at high speed for you.