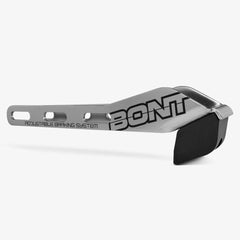 Bont Brake for 80mm-110mm wheel frame
This inline speed skating brake fits Bont frames from 80-110mm wheels and will not work with 3 wheel frames. It will fit on most brands of speed skate 4 wheel frames. 
The brake fits 3 point and 2 point frames with 8mm axles. This is a single brake for one frame only. 
Note: wheels & frame not included. 
Included:

Brake with brake pad
2 axles bolts to attach brake to the frame
This Bont inline skate brake works really well for skaters who love speed skates but miss having a brake that they are used to using on their rollerblades or recreational skates. Most rollerblades and recreational skates come with a brake so skaters get familiar with using it to come to a stop. Speedskaters will normally use a snowplow walking technique to come to a stop but until you can learn how to do this, a heel brake is a good idea. The rubber on this brake is long-lasting and replaceable.