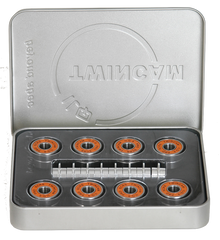 Twincam ILQ9 bearings 16 pack
TWINCAM are made with the highest quality military grade Chrome steel available (SAE 52100).
All TWINCAMS use only up-grade Steel balls to handle the hostile environment found in in-line skating.
All cages are highly polished brass for minimal wear and resistance.
Inner and outer races are undercut to keep lubricants in and keep contaminants out.
Superior lubricants insure a longer lasting bearing with less maintanace.
Data shows that TWINCAM'S exclusive "Superfinishing" of raceways provide a smoother ride, with superior side load capabilities.
Leading supplier to high quality skate manufacturers.
Exclusive 6 ball design in-line bearing.
Exclusive design 6 ball nylon retainer with self-lubricate material.
Inner ring with exclusive design "SCRS", more avoid contamination.
Ultra Light Gel better protection inside balls and retainer.
Clearance designed for in-line racing.
Race Tip Pro:  The pro versions are faster, they only have one seal on one side, and are easy to clean. Still, no need to clean them as much has other bearings. They tend to handle dirt and water pretty good. Skater tend to buy Twincam , use them for 2 years with cleaning , then buy another set. They are cheap enough to do so.
Six Balls